---
Food sensitivities can cause a wide range of symptoms and disorders. The foods that cause these delayed reactions are often hard to diagnose because of the time between consumption and the physical reaction. The Food Intolerance – IgG/IgA – Asian Foods profile is designed to assay specific IgG (sub classes 1, 2, 3, 4) and IgA (sub classes 1, 2) antibodies. The classification of 0 to IV denotes the level of IgG and/or IgA antibodies detected through spectrophotometric analysis.
About this test
---
Important preparation: Recent exposure to these foods may be required for antibodies to be present in the blood.
Collection method: Finger prick blood spot card.
Test method: Spectrophotometric analysis.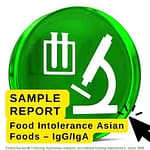 What is tested? To see the list of foods tested scroll down, or open the Sample Report.
Laboratory: This test is performed by ​​NutriPATH™ using the ELISA™ model.
All inclusive: Necessary test request documentation included. Reply Paid Express Post with Parcel Tracking. Results include tailored advice providing an effective starting point for dietary manipulation.
Simple 3 Step Process
---
Purchase test, have it delivered to your doorstep.

Perform collection(s).

Post your sample(s) and referral form back to the lab' using the Express Post satchel. (Tracking included)
Receive your test results by secure .PDF at your designated email address.
Relative Conditions
---
Eczema

Irritable Bowel

Fatigue

Headaches

Asthma
Foods included in this Test Panel
---
Dairy:
Casein, Cheese-Cheddar, Milk, Milk-Goat, Whey.
Meat/ Fowl:
Beef, Chicken, Duck, Goose, Lamb, Pork.
Fruits:
Apple, Banana, Cantaloupe, Cherry, Grapefruit, Green Grape, Guava, Jackfruit, Kiwi, Lemon, Mango, Olive, Orange, Papaya, Peach, Persimmon, Pineapple, Strawberry, Watermelon.
Grains/Legumes/Nuts:
Almond, Bean-Kidney, Bean-Lima, Bean-Soy, Buckwheat, Cashew-Nut, Chestnut, Chickpea, Coconut, Corn, Gliadin- Wheat, Gluten-Wheat, Lentil, Millet, Oat, Pea-Green, Peanut, Pine Nut, Pistachio, Rice-White, Walnut- English.
Fish/Crustacea/Mollusk/Sea Food:
Anchovy, Clam, Cod, Crab, Halibut, Lobster, Octopus, Oyster, Red Snapper, Salmon, Scallop, Shrimp, Sole, Squid, Tilapia, Tuna.
Vegetables:
Avocado, Beet, Broccoli, Cabbage, Carrot, Cauliflower, Celery, Cucumber, Eggplant, Garlic,  Green Bean, Lettuce, Onion, Pepper-Green Bell, Potato-Sweet,  Potato-White, Spinach, Tomato.
Meat/ Fowl:
Egg White-Chicken, Egg Whole-Chicken, Egg Yolk-Chicken.
Misc/ Herbs/Spices:
Basil, Black Tea, Cinnamon, Coffee Bean, Coriander, Curry Powder, Ginger, Honey-Bee, Mushroom, Mustard, Pepper-Black, Sesame Seed Sunflower Seed, Vanilla Bean, Cocoa Bean, Baker's Yeast.
< Free & Guaranteed Express Post Delivery on all orders currently > 
Safety: Self-request IgG/IgA food intolerance tests are intended for planning/monitoring of dietary and lifestyle changes and not for the purpose of diagnosing illness or disease. Always consult with your doctor in the event you receive an irregular test result.
---
​​TestoChecker® Australia Wide. ©2023 All rights reserved.