---
On this page we highlight how TestoChecker™ can Support your business goal, and Protect your business interest.
---
+

What motivates TestoChecker™?
– Our aim is to connect, and to stay connected to high quality individuals working in the Australian health & wellness space. Our overarching mission is to make hormonal imbalance testing more accessible to all Australians. Our 'Blue Ocean' business supports the theory that self empowerment is central to a future in which the individual takes responsibility for collecting, storing and releasing (i.e. controlling), their own medical records when it suits 'them'.
To learn a little more about what we do, scroll to the bottom of this page.
---
+

What discount would I receive as a TestoChecker™ Affiliate? 
– A Standard B2B TestoChecker™ Practitioner Support concession of 10% applied on the total amount spent. This cost includes express post item delivery both ways. The 1/10 split is the only discount offered by TestoChecker™ at this time, or any time in the past.
---
+

How does TestoChecker™ support Practitioners?
We want to be an attractive option for Fit-Pro's and Practitioners. Below you will find a summary of the ways we help our small army of existing Affiliates, or plan on doing so in the near future*.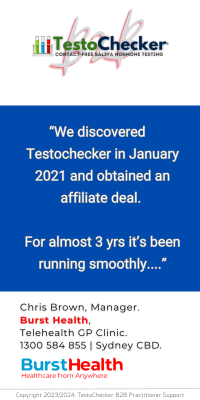 – Additional insight: Without question, this is the most practical and useful of the special benefits offered to our Affiliates (only).
Additional Insight provided by the testing laboratory can be a big advantage in cases where test results do not align with expectations. 'Additional Insight' is what our Affiliate's requests when a Client disputes the lab test result. 
Sometimes test results do not align with expectation and it's natural for people to reject something they don't understand. The good news is that on almost every occasion 'Additional Insight' has been requested by us from the Lab', the answer has satisfied the individual involved. 
Providing this service is labour intensive on our part. Due to this we made the decision to discontinue the service for General Clientele and all non-affiliated Practitioners. 
This alone is a great reason to join Testochecker's growing tribe of switched-on-Affiliates. 
Please note that turn-around-time for this service varies and is dependant upon the availability of the lab staff involved.
– Assisted access: TestoChecker™ Affiliates are provided with a responsive, digital order form. It's a way of ordering the tests you want and saves a few seconds. It also ensures that the discount is applied. 
– More tests: Affiliates gain access by default, to a larger (internal) list of available at-home medical tests which can be ordered. We send out a cute little newsletter which talks about new, upcoming tests, and it highlights the most popular test at the time.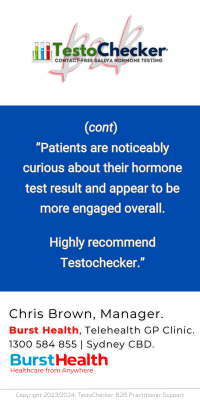 – Digital creative: All practitioners affiliated with TestoChecker™ have an option to request digital assets from our creative team, as long as they're for social media (business) purposes. There is a limit to what and how much can be requested, but it's high quality and the quota resets each month. 
*Future plans include: A) 'Affiliate Advantage SEO', where we highlight an affiliate in our Paid Advertising for one month. That means being featured (and tagged of course) in ads targeting a smart-audience (META/Facebook/Instagram) in your local area. Expected to commence January next year. + B) 'Guest-post Submission' invitation. Whereby the affiliate can submit a guest post on our Blog once a specific test order threshold is met. 
---
+ How can I protect my Clients Privacy?
– Privacy, Cyber Security in general, and the Right to be Forgotten (law) are all taken seriously here @testochecker. For more about that please see our Privacy Policy in the footer-area of this page.
---
+ What about my Valuable Client Data
– Your client data is YOUR client data, and TestoChecker™ respects that boundary. For the security and peace of mind of our affiliates we established a practitioner-friendly alternative for placing test orders. It means a practitioner can place an order without the need to share those details which are often used for marketing purposes;
Name.

Address (home).
Phone.
Email.

DOB.

Gender.

Date/time of collection.
When completing a test request, practitioners will have the option to use generic order details for the three user attributes which we have "Cloaked" (see above). This means that,
Your clinic is able to use a designated

'patient Email Address'

for all orders

Your clinic is able to nominate a designated

'patient Phone Number'

for all orders.

Your clinic is able to nominate a designated

'patient Home Address'

for all orders 
You may already know that TestoChecker™ also provide an option for Clients to remove all evidence of them ever having used our service. It's called the 'Personal Data Deletion Request' and a link to it can be seen at the bottom of this page.
---
+ How do I become a TestoChecker

™

Affiliate?
– To apply for a TestoChecker™ Affiliate ID, complete the Practitioner Access Request and we'll be in touch.
---
+

When will applicants for Intake-2 be notified?
–  Final quarter 2023.
---
Get to know TestoChecker

™
Our 'most ordered test' in 2022 was the 'Saliva Testosterone Test Kit. SKU:T9906'

For deliveries, we use: Couriers Please™ and Australia Post™.

The last major Postage Fail was May 2020.(affecting our clients)

Test kit delivery costs TestoChecker

™

AUD$24.00 per kit.

Total Number of Negative Reviews for TestoChecker™: 0 (at 23.10.2023)

Total Number of Positive Reviews for TestoChecker Hormone Test Kits™: 36 (at 23.10.2023)
TestoChecker

™

was launched on March 30, 2016.
---
Featured testimony (Full);
"We discovered Testochecker in January 2021 and locked in an affiliate deal. For almost 3 years it's run smoothly. It's easy to order tests and they arrive by express post which suits our clinic's schedule. Patients are noticeably curious about their hormone test result and appear to be more engaged in the overall outcome. Highly recommended."
– Chris Brown, Manager. Burst Health™, Telehealth GP Clinic. 1300 584 855 | Sydney CBD.
---
#collaborate + #affiliate
This website is secured by GeoTrust™ with Guest Checkout enabled.
B2B Practitioner Support | A  Level 13 Suite 1A, 465 Victoria Avenue, Chatswood NSW 2067, Australia.